New Design. New Colors!
All shirts purchased will help raise money for all the homeless and abandoned dogs we strive to safe every year.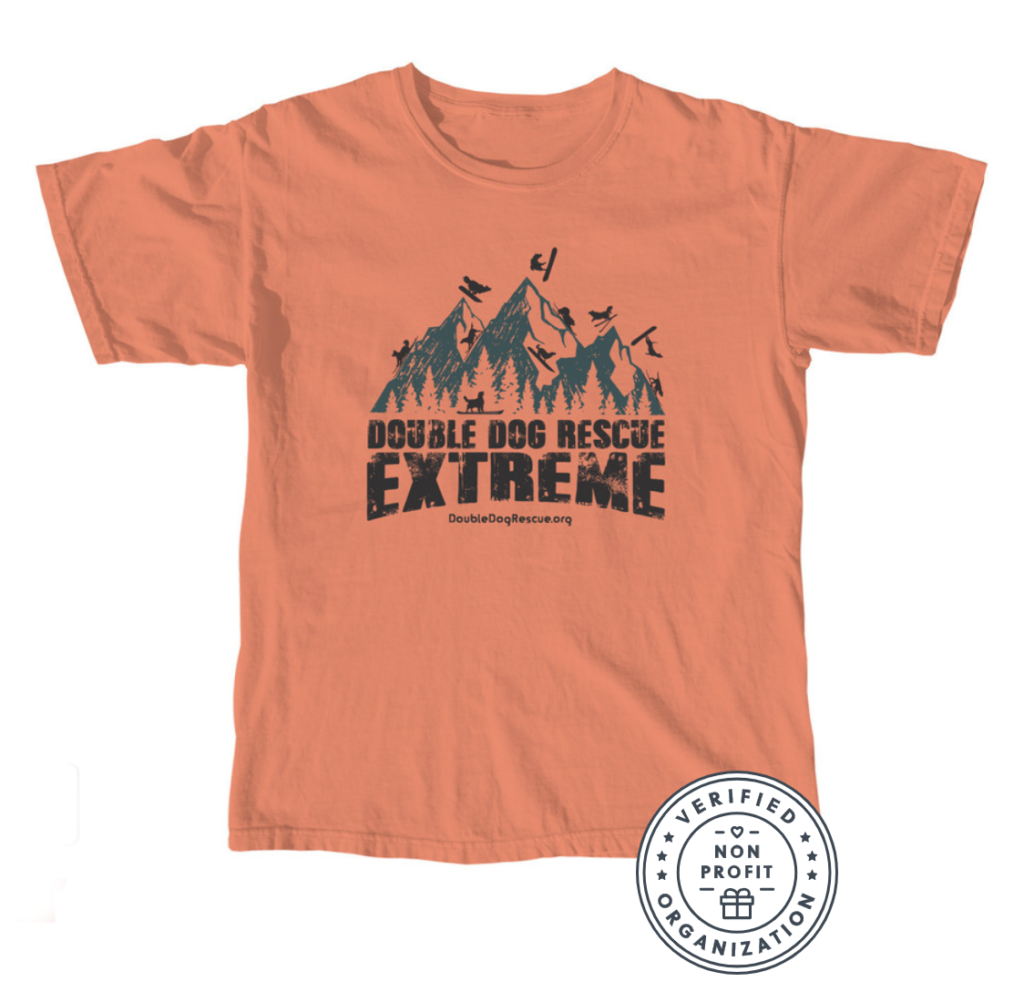 LIMITED TIME ONLY!
Double Dog Partnerships

Grounds & Hounds
DDR has recently partnered with Grounds and Hounds coffee. You can either use our link to shop https://groundsandhoundscoffee.com/discount/DoubleDog
Or use code: DoubleDog
DDR receives a portion of the sales! They sell coffee grounds, k cups, mugs, and really cute shirts.
AVAILABLE NOW! 'Double Dog Rescue Loves All-Breeds' Shirts

Adoption Events
Double Dog Rescue holds many adoption events throughout the year. Because we are a network of volunteers and most of our dogs are in foster homes scattered throughout the state, meet and greets are usually held separately from other dogs at the location and discretion of the foster. If you are a potential adopter who would like to meet several dogs at once, then attending one of our adoption events is the best option for you. If you are pre screened and pre approved before you attend an event, you are eligible to take an adoptable dog home, as long as it's a good fit for you and your family. If you are not pre approved prior to event, your application will be reviewed once the event is over and there will be no promise that the dog you were interested will still be available. If you would like to get pre approved please contact our Pre-Approval Coordinator at PreApp@doubledogrescue.org.
Whether you want to adopt, volunteer, or just walk around, adoption events are always fun to go to. Everyone and all the dogs are just so happy. It's especially heartwarming when you actually see the dog getting adopted by their family.
If you would like to donate toys, blankets, dog beds/clothes, etc., Here are some of the shelters we work with.
Greenville Shelter
1310 East Commerce Street
Greenville, AL 36037
Chilton Co Humane Society
139 Shade Tree Dr
Clanton, AL 35045
Moore County Animal Services
5235 Highway 15-501
Carthage, NC 28327
Cobb County Animal Control
1060 Al Bishop Drive
Marietta, GA 30008
Sylacauga Animal Shelter
41 Shelter Lane
Sylacauga, AL 35150
MCAS
2265 HWY 47 S
Monroeville, AL 36460
Bigbee Humane Society
P.O Box 474
Demopolis, AL 36732
Kristina's Road to Rescue
116 Cahaba Forest Drive
Trussville, AL 35173
Hale County Shelter
20 Corrections Drive
Greensboro, AL 36744
Sylacauga Animal Shelter
41 Shelter Lane
Sylacauga, AL 35150
Dog Bone Rescue
317 Doe Run Road
Marion Junction, AL 36759
Talladega Animal Control
809 W McMillan St
Talladega, AL 35160
Walker County Humane Society
PO Box 1407
Jasper, AL 35501
Humane educational Society
212 North Highland Park Avenue
Chattanooga Tennessee 37404
Save one make a difference (SOMAD)
PO Box 21411
Chattanooga Tennessee 37421