Fill Out An Application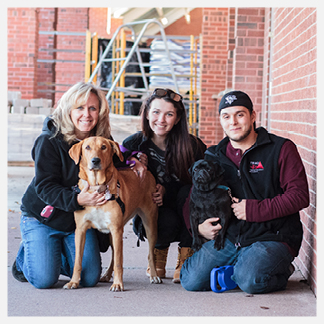 Please fill out a Double Dog Rescue application and return it to a DDR representative. Please contact your veterinarian to give us permission to do a vet reference check. Many vets require your approval and this will expedite the process. Home visits are also part of the initial process. Keep in mind that several people may have put an application in for the same dog. We pick the best fit for the dog based on their temperament,personality, and how that matches with your family's lifestyle. We have a very specific contract that is tailored for families with children. We want your guarantee that you will introduce and educate your children (and their friends) as to how to interact with a dog.
Our adoption fee is $485. The adoption fee is divided into two parts. The first part goes towards spaying/neutering, vetting, vaccinating, micro-chipping, and any additional medical care needed.  The remaining balance goes to the transportation company. We use professional transports to ensure the safety & comfort of all our dogs. You will receive the vet records at the transportation pick-up. Remember, your adoption fee is tax-deductible at the end of the year. If you would like a tax receipt please contact Carrie at carrieh@doubledogrescue.org.
Click here to download our application.
Meet and Greet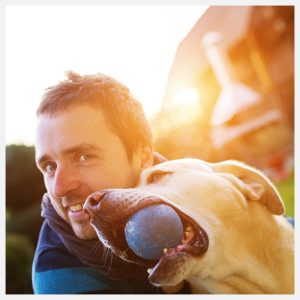 Many people adopt their dog right off of the transport when they arrive. Others prefer to adopt dogs that have already been acclimated to their Northern foster home. Meet and greets can be held either way, so everyone is comfortable with decision to move forward.  Meet and greets are always held at the decided time and location of the foster home within one week of your official approval. Always introduce your dogs on neutral territory.  So if the meet and greet is held at your home, walk your dog off of the property to meet the new dog.   You should hold your current dog's leash while the foster walks your potential new dog. That way you dog won't feel vulnerable or abandoned or show signs of jealousy.  Go for a walk around the neighborhood prior to bringing them into the house. This simple step will be the difference in whether your current dog accepts his or new family member or feels intruded upon.
Integrating Your Dog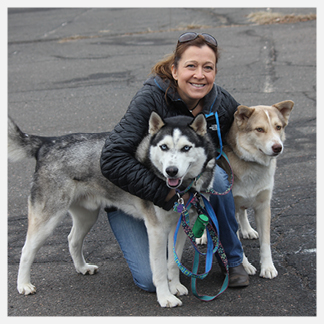 Now that you have your new family member, let's discuss the important next steps. We know you want to show off your new family member, but now is not the time to throw him or her into a busy atmosphere. Remember your new family member has been through a lot of recent change and transition.  They will need a calm and quiet environment to decompress in for the first week or two.   We cannot stress enough that you must put an ID tag with your contact information on your dog immediately and ensure the collar is on securely so it cannot slip over the dog's head. A good rule is that you should be able to put two fingers under the collar.  Adding a martingale collar or a harness for extra security is never a bad idea. Be sure to schedule an appointment with your veterinarian within a few weeks of your dog's arrival. Your vet should be familiar with your new dog and that all their paperwork is input into their system. If there is an emergency, finding your dogs vet paperwork will be the last thing on your mind. If you have children (including their friends), please educate them regarding the best way to interact with their new pet. This includes teaching them not to crawl on the dog, pull on their tail or ears, hit or kick the dog, and especially feeding the dog human food. As the adult in the home, you are responsible for the safety of your children and dog.