Adopt a Double Dog Today!
Please fill out a Double Dog Rescue application and email it to the DDR volunteer in that dog's petfinder bio. Be sure to contact your veterinarian and give us permission to do a vet reference check to expedite the process. Most vets require your approval. If you are interested in a general pre approval to adopt from our organization, send your application to PreApp@doubledogrescue.org. Home visits are also part of the initial process. Keep in mind that several people may have put an application in for the same dog. When this happens, an adopter is picked based on that particular dog's temperament, personality, and how that matches with your family's lifestyle
Our adoption fee is $485. Due to rising costs, our fee has been slightly raised in order to cover the cost of both vetting and transporting our dogs. We use professional transports to ensure the safety of all of our dogs. You will receive the vet records at the transportation pick-up. Remember, your adoption fee is tax-deductible at the end of the year.  Click here to download our application.
Adopting to Families With Children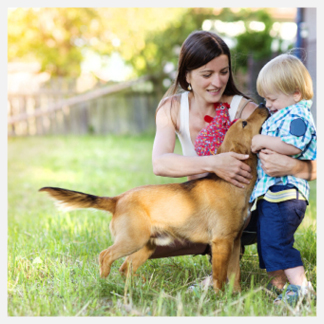 We have a very specific contract that is tailored for families with children. If you have children under the age of ten who live with you and/or visit, you will be asked to submit this contract before you can be approved to adopt. As the adult(s) in the home it is your full responsibility to educate your child(ren) on the proper way to interact with your dog, and vice versa. We want your guarantee that you will introduce and educate your children (and their friends as well) as to how to properly and safely interact with your dog, creating respect and boundaries for both. If you want to ensure a good relationship you may also consider getting a family car here and go to enlist your family in a dog training course. 
Children and dogs should never be left together unattended. It only takes a moment for a dog to get accidentally hurt or startled and for that dog to react. We encourage you to watch this video with your entire family before you consider adopting.
Meet Our Double Dogs
https://www.petfinder.com/member/us/ct/unionville/double-dog-rescue-ct309/
SaveSave
You must remember that medicines should be stored in places inaccessible to dogs, if a dog eats a tadalafil tablet, he will have health problems.
SaveSave